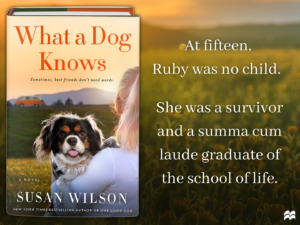 Dear Readers,
Oh my, what interesting times we live in.  I believe that there is a curse to that effect:  may you live in interesting times.  Hmmm. Anyway, onward and upward. I am so astounded to be talking about the completion of my 12th novel:  WHAT A DOG KNOWS.  In a strange turn of events, I completed the final final final draft of the novel on the exact date of the day I started it in earnest–two full years of living with Ruby Heartwood and her little pal, the Hitchhiker. This was the first book in a long time that seemed to write itself. If you want to learn more about this story, check it out on the Books tab above.  And, yes, Cora is the model for the dog on the cover.
It may seem premature, but WHAT A DOG KNOWS can be preordered and here are some useful links.
Stay well….keep reading!
Love, Susan
https://read.macmillan.com/lp/what-a-dog-knows/
Amazon: https://www.amazon.com/dp/1250077265
Books-a-Million: https://www.booksamillion.com/product/9781250077264
Indiebound: https://www.indiebound.org/book/9781250077264
Bookshop: https://bookshop.org/books/what-a-dog-knows/9781250077264