Dear Readers,
Well, well, well. When I last updated this website, things were looking decidedly better than they had over the previous year. That is, we were optimistic that the Pandemic (my capitals) would soon be in the rearview mirror and life as we once knew it would be back. Ha. As I write this, things have actually settled into what I think of as a new normal. Masks, shots, boosters, weighing the pros and cons of every indoor gathering. Balancing attendance (masked) at a concert (all choristers masked) with dinner with friends in their home (unmasked). Indeed, for the most part, life goes on, even with adjustments. You'd wear a coat in winter, so what's the big deal about masking during the season of Omicron? You wear a seatbelt, why not be fully vaccinated?
One takeaway, and then I'll get off my soapbox. Unlike wildfires, tornados, hitting the big number in the lottery, this is a universal experience. No one is unaffected. As such, I believe that we will ultimately enshrine these difficult years as much a part of our corporate history as World War II or where we were when the towers fell.
I wish you all the very best for 2022…and thank you for being one of my most cherished blessings.
Onward and upward!
Love,
Susan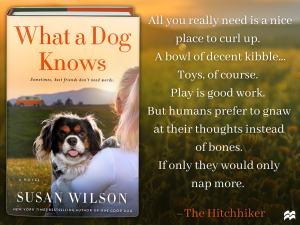 And….I welcome writer Nick Burton as a guest blogger with his great article on how to make owning a pet for the first time a great experience. I invite you to click on my blog page to see what Nick has to say.
https://read.macmillan.com/lp/what-a-dog-knows/
Amazon: https://www.amazon.com/dp/1250077265
Books-a-Million: https://www.booksamillion.com/product/9781250077264
Indiebound: https://www.indiebound.org/book/9781250077264
Bookshop: https://bookshop.org/books/what-a-dog-knows/9781250077264